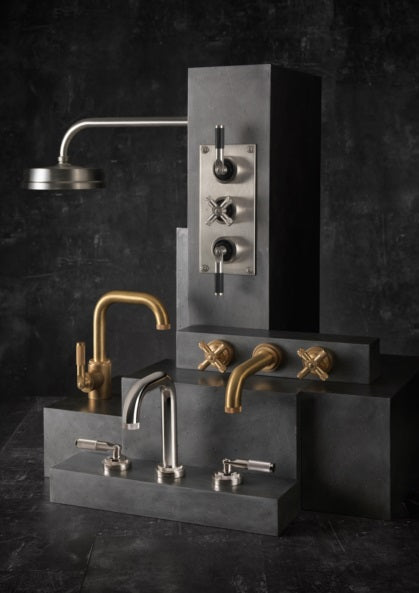 LANDMARK INDUSTRIAL
Bold and authoritative with precisely machined detailing.
Much of what is now regarded as contemporary design is rooted in Bauhaus. Landmark Industrial is faithful to the rational functionalism redolent of Bauhaus and a modern interpretation of the values and style of the designs it pioneered.

Perfect function and beautiful form - achieved by the use of the finest materials and a selection of finishes that delight the senses - are also the values embedded in our manufacturing tradition.

These core values of acute attention to detail and the use of innovative processes are identified in each expertly manufactured piece of Landmark Industrial. The collection fuses raw with refined in a celebration of contemporary design.
LANDMARK PURE
Minimal embellishment and deceptively simplistic composition.
Landmark Pure has overtones of the original Bauhaus aesthetic and builds on the foundations of our Fairfield and Style Moderne Collections, both of which were inspired by dynamic and hugely influential periods in our cultural and industrial heritage.

Landmark Pure does not attempt to be a faithful reproduction of the products of Bauhaus, rather it utilises a design language that evokes the ethos of the period in an authentic manner.

By size and proportion it displays and celebrates elements of its functionality achieved through a harmony of materials, finishes and exquisite detailing. Pure is neutral and balanced with concise and direct lines.